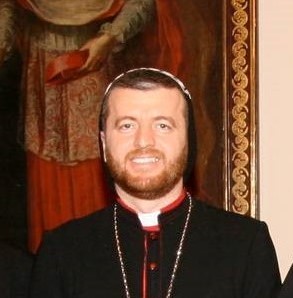 H.E. Mor Polycarpus Eugene (Edip) Aydin
STSS President
H.E. Mor Polycarpus Eugene (Edip) Aydin was born in Tur Abdin, southeast Turkey in 1971. He entered Mor Gabriel Seminary in 1982 where he received training in both Syriac language and literature as well as in traditional Syriac theology and liturgy.
Following secondary education in Turkey, H.E. went to England to study theology at Heythrop College, University of London, where he earned a BA in Divinity in 1995. Next, he went to Oxford University as a Visiting Student and spent a year at the Oriental Institute where he followed the Master of Syriac Studies course under the supervision of Dr. Sebastian Brock. In 1997 he joined St. Vladimir's Orthodox Theological Seminary at Crestwood, New York where he completed the three-year Master of Divinity program, graduating in 2000. The subject of his thesis was The History of the Syriac Orthodox Church of Antioch in North America: Challenges and Opportunities.
In 2001, he was tonsured as a monk (dayroyo) by His Holiness Mor Ignatius Zaka I Iwas, Patriarch of Antioch and All the East and given the name Eugene (Awgin), in honor of Mor Awgin of Tur Izlo. In 2002 he was ordained as a priest at Mor Gabriel Monastery. He later earned a doctorate from the Princeton Theological Seminary in the field of Early Church History and Ecumenics under the supervision of Professor Kathleen McVey.
In 2007, Patriarch Mor Ignatius Zaka II  ordained Raban Eugene a Metropolitan by name Polycarpus and he was appointed as the Patriarchal Vicar for the diocese of Netherlands. Since 2013 he has been President of the Suryoye Theological Seminary Salzburg (STSS) and a visiting lecturer teaching on Canon Law for the MA in Syriac MA in Syriac Theology.
H.E. Mor Philoxenos Mattias Nayis was born in Stockholm in 1977.
At the age 17 he went to study at Mor Ephrem Theological Seminary in Damascus, graduating in 1996, after which he began teaching. In 1998 H.E. became a monk, and was ordained as priest in 2000.
Between 2004-2007 he served as rector of Mor Ephrem Theological Seminary, but also spent part of 2006 at Ridley Hall College in Cambridge studying theology. In 2007 H.E. was ordained as bishop by Mor Ignatius Zakka I, and served as the bishop's assistant and representative of the Syrian Orthodox church worldwide.
In 2012 H.E. Mor Philoxenos was installed as bishop for Germany based at the St. Jacob of Serug Monastery in Warburg, Germany.
From 2011-2013 H.E. Mor Philoxenos lead the patriarchal delegation to Salzburg to help establish the MA in Syriac Theology and the student house, Beth Suryoye. Since STSS become officially registered in Austria, H.E. acts as honorary president.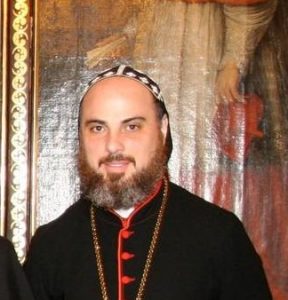 Mor Philoxenos Matthias Nayis
Honorary Chairman STSS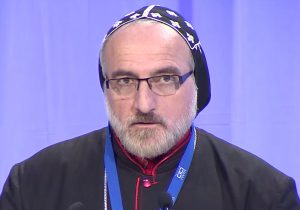 Mor Dionysios Isa Gürbüz
Honorary member STSS
H.E. Mor Dionysios was born in 1964 in Tur Abdin, Turkey. At the same time as he was a pupil at the Turkish Lyceum in Midyat, he finished his theological studies at the seminary of the monastery of Mor Gabriel in 1982, becoming a monk in 1985. In 1989 he was sent to Damascus to teach Syriac and liturgy at the Mor Ephrem Theological Seminary of the Syrian Orthodox Patriarchate, being ordained as a priest in 1991. In 1992 he spent a year teaching religious education to secondary schools in Indiana (USA). From 1993-1996 he served as rector of the Mor Ephrem seminary in Damascus before his ordination as bishop and secretary of the Patriarch in 1996.
H.E. Mor Dionysios spent 10 years as bishop for Germany before becoming bishop for Austria and Switzerland in 2006.
Gabriel Malas's mother tongue is Aramaic, and early in his career, he worked as a translator in several languages and furthered his education at the English High School and French Institute. In the 1970s he moved to Italy then Switzerland, finally moving to the U.K., where he has lived and worked since.
Gabriel Malas is the U.K. Representative for the Tur Abdin Monasteries and Churches and in this role, helped to establish the Tur Abdin Focus group in the U.K. with the Very Reverend Christopher Chessun, Anglican Bishop of Southwark (London). Malas is a founding member of the STSS Team since its inception in 2013.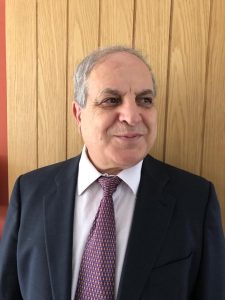 Gabriel Malas
Vice President STSS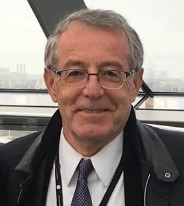 Abdulmesih Barabraham
Secretary STSS
Abdulmesih BarAbraham has a Master of Science degree in Engineering from the University of Erlangen/Nürnberg. He has worked in different management positions for an international German Corporation in Germany and in the US since 1983. 
As an independent researcher he has published various scholarly articles. Among others, he is author of "Turkey's Key Arguments in Denying the Assyrian Genocide," in David Gaunt et. al. (Eds.), Let Them Not Return (New York: Berghahn Books, 2017), "Safeguarding the Cross: Emergence of Christian Militias in Iraq and Syria," in Andreas Schmoller (Ed.), Middle Eastern Christians and Europe – Historical Legacies and Present Challenges (Zürich: LIT Verlag, 2018), and "German Perceptions on Sayfo: How much did Germany know?" in Shabo Talay & Soner Barthoma (Eds.), Sayfo 1915 – An Anthology of Essays on the Genocide of Assyrians/Aramaens During the First World War (Piscataway: Gorgias Press, 2018).
Abdulmesih is the Chairman of the Board of Trustees of both, the Yoken-bar-Yoken Foundation and Mor Afrem Foundation, Germany. 
In 1979, Mr. Samuel brought his family to the United States. His upbringing in Midyat, Turkey, along with his strong beliefs drove him to seek a better life for his family in the United States. Mr. Samuel followed in his father's and grandfather's footsteps by starting a handmade wedding band manufacturing company. He built the company from the bottom up into a successful business while learning how to be a part of a new world. The church gave him strength during those early years and he always made time to give back. He has contributed to his community for over three decades by serving on various church boards and being an executive board member of the Eastern archdiocese.
During his time serving as the financial officer for the archdiocese, he helped in the building of an archdiocese community center, the first of its kind in the United States. Mr. Samuel has always believed that education is the key to success in life and must take priority. To this end, he collaboratively established, Suryoyo Educational and Cultural Organization, which awards scholarship and grants to students aspiring to attend college. And now, Mr. Samuel is focusing on proudly serving the board at Suryoye Theological Seminary Salzburg and continuing his passion for education and the community.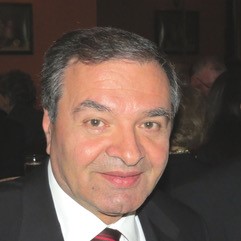 Sait Samuel
STSS Committee Member